Prisms of the People: Power and Organizing in 21st Century America
By Hahrie Han, Elizabeth McKenna, and Michelle Oyakawa
Chicago University Press, July 2021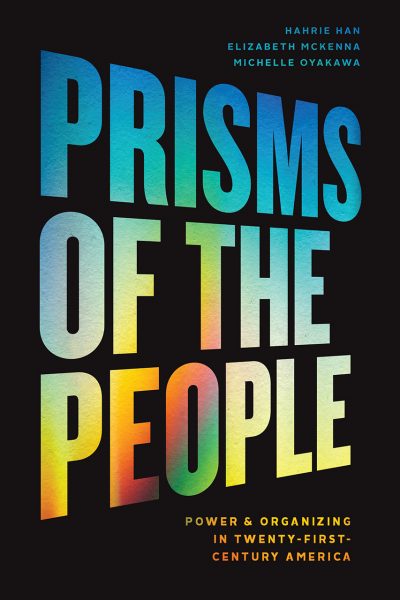 One of the most urgent challenges facing democracy right now is a fundamental disconnect between people and politics. Viral movements like #MeToo, Black Lives Matter, and the Trump #resistance have been forcing a reckoning in American society. Yet reforms proposed in the aftermath of these movements keep hitting roadblocks. In a moment when everyone is asking how ordinary people can actually have power in our broken political system, Prisms of the People: Power and Organizing in 21st Century America provides a blueprint, advancing the science of social change and movement building.
In the United States, it is worth trying to understand what lessons might be learned about the deep organizing that enabled places like Georgia and Arizona to flip for Joe Biden in 2020. Movements were a fundamental part of those outcomes. At the same time, partisan election recounts like the one being conducted in Arizona and new voting restriction laws in Georgia and elsewhere threaten the gains of organizers and raise troubling questions about the health of American democracy.
Some have expressed a cautious optimism about the current moment. President Biden has brought prominent activists into his administration and has so far seemed willing to listen to some of the demands of organizers, including young activists from the climate justice movement. And yet it remains to be seen how much sway these voices will have.
Grassroots organizing is incredibly challenging, especially when it's aimed at securing more power for the poor and marginalized. But some instances of collective action have succeeded. What's the difference between a movement that wins substantial victories for its constituents, and one that fails?
Prisms of the People uses data from six movement organizations—including the coalition that organized a 104-day protest in Phoenix (laying the groundwork for the state's historic shift in 2020) and another that helped restore voting rights to the formerly incarcerated in Virginia—to show that the power of successful movements most often is rooted in their ability to turn participation into political power. They won not by doing things we all know—registering voters, canvassing neighborhoods, and so on—but instead by negotiating for power in ways that rejected the false choice between idealism and pragmatism, between working inside the system and outside the system, between articulating a bold vision and making political compromises. 
For example, the vigil in Arizona cultivated leaders and organizers who, over the next decade, would go on to win significant local victories, including defeating Maricopa Sheriff Joe Arpaio and passing a landmark minimum wage and paid sick leave ballot initiative. They did this by building long-term relationships with their constituents, and by creating strategic alliances with groups—such as the business community—that wouldn't necessarily seem like natural partners. The result was concrete action around issues that people were facing in their daily lives. During the 2020 election, these trusted nonparty organizations were able to help the Biden campaign reach voters that the Democrats rarely reach.
Prisms of the People speaks to us at this moment of national political disaffection. A story of people beholden to each other, acting strategically through vehicles of collective change, the book can help spark the important conversations we need to have with one another about how we can build a powerful multiracial democracy.
For more information, visit University of Chicago Press.
About the authors:
Hahrie Han is the SNF Agora Institute director and professor of political science, and faculty director of the P3 Research Lab at Johns Hopkins University. She specializes in the study of organizing, movements, civic engagement, and democracy.
Elizabeth McKenna is a postdoctoral scholar at the SNF Agora Institute at Johns Hopkins University and a PhD in sociology from University of California, Berkeley.
Michelle Oyakawa is an assistant professor of sociology at Muskingum University.