Friday, November 12, noon–1 p.m. ET
Join Martha S. Jones and the Hard Histories Project for a "works-in-progress" discussion with Kami Fletcher about her forthcoming book project on Mount Auburn Cemetery, the first Black-owned and operated cemetery in Maryland.
This virtual event is free and open to the public, but registration is required. All registered attendees will receive an emailed pre-circulated paper about one week before the event to facilitate a Q&A.
About the Speaker: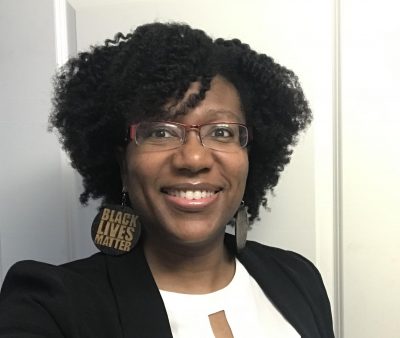 Kami Fletcher is an associate professor of American and African American history and co-coordinator of Women's and Gender Studies at Albright College. She teaches courses that explore the African experience in America and unpacks social and cultural U.S. history all at the intersection of race, gender, class, and sexuality.
Her research centers on African American burial grounds, late 19th/early 20th century Black female and male undertakers, and contemporary Black grief and mourning. She is the co-editor of Till Death Do Us Part: American Ethnic Cemeteries as Borders Uncrossed, which examines the internal and/or external drives among ethnic, religious, and racial groups to separate their dead. She is currently working on Grave History: Death, Race & Gender in Southern Cemeteries from Antebellum to the Post-Civil Rights Era, which. investigates the southern places where cemeteries take root, as well as probes the interplay of southern history, culture, race, class, gender, and climate in these cities of the dead (University of Georgia Press).Currently, Fletcher is working on a manuscript that historicizes Mount Auburn Cemetery in Baltimore, the first Black owned and operated cemetery in Maryland. The book positions African American cemeteries as the point where life and death meet, arguing that this meeting point is a symbol of Black freedom from white control.
For more on Dr. Fletcher visit her website, www.kamifletcher.weebly.com, and/or contact her on Twitter using @kamifletcher36.
This event is part of a series of scholarly seminars hosted by Hard Histories in fall 2021, exploring the histories of Blackness, slavery, and racism in the Maryland area. Launched in fall 2020, the Hard Histories at Hopkins Project examines the role that racism and discrimination have played at Johns Hopkins. Blending research, teaching, public engagement, and the creative arts, Hard Histories aims to engage our broadest communities—at Johns Hopkins and in Baltimore—in a frank and informed exploration of how racism has been produced and permitted to persist as part of our structure and our practice.