Wednesday, August 25, 11:30 a.m. ET
Join the Stavros Niarchos Foundation (SNF), incubator for Media Education and Development (iMEdD), and the SNF Agora Institute on Wednesday, August 25th at 11:30 a.m. ET (6:30 p.m. EET) for an open discussion during the SNF Nostos Festival on the topic of "Humanity-AI Symbiosis."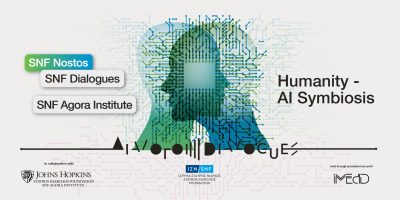 Guided by expert perspectives and driven by the audience's curiosity, this DIALOGUES discussion will approach the ethical, philosophical, and social issues that arise from the use of developed AI systems in our everyday life and what the future holds for society and democracy. A live discussion with an AI system will be also presented, giving food for thought and creating room for further discussion. The event will conclude with a Q&A with young people.
Panelists:
Stelios Virvidakis, professor of philosophy, department of history and philosophy of science, NKUA
Ethan Zuckerman, associate professor of public policy, communication and information, University of Massachusetts, Amherst
The discussion will be moderated by journalist and SNF Dialogues Executive Director Anna-Kynthia Bousdoukou and SNF Agora Institute Director Hahrie Han.
The DIALOGUES are curated and moderated by Anna-Kynthia Bousdoukou.
The opinions expressed by DIALOGUES participants, whether representing officially institutions and organizations or themselves, are solely their own and do not necessarily represent the views of the Stavros Niarchos Foundation, iMEdD, or the SNF Agora Institute. Speakers' remarks are made freely, without prior guidance or intervention from the team.