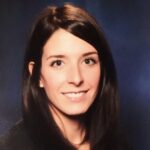 Louise Flavahan has joined SNF Agora Institute as its first dialogue and debate director. In this role, Flavahan will oversee the university debate initiative, a new program that aims to model the habits and virtues of reasoned debate across different perspectives.
Flavahan will work in close partnership with a student committee, faculty advisers, and campus groups like the Center for Social Concern to carry out a series of debates over the course of each academic year. The series will include two marquee events that bring major speakers—such as public intellectuals, former government officials, and media personalities—to campus, along with several smaller debates organized with students throughout the academic year. Flavahan will also develop opportunities to use the debate series to instill the values and methods of constructive debate more broadly across the university's student community.
"I am so excited to join the SNF Agora team. Everyone from the staff to faculty to student volunteers and fellows are inspiring in their commitment to advancing the ideals of democracy as champions of civic engagement and open dialogue," Flavahan said.
"I am especially excited to help build out the dialogue and debate platform at the SNF Agora Institute, and eventually, across the Johns Hopkins community. During my time at Johns Hopkins, I have been so impressed by the caliber and heart of its students. I am thrilled to be working with them and look forward to helping them find or strengthen their voice as fully engaged citizens and catalysts for future change."
Flavahan began her new role on August 29. The first debate is currently being planned for fall 2022, and the first marquee debate for early spring 2023.
Prior to joining the SNF Agora Institute, Flavahan served as the senior public policy analyst to Senator Barbara A. Mikulski (Ret.) while she was Homewood Professor of Public Policy at Johns Hopkins University. She was the Senator's top adviser on a broad range of policy issues and managed every aspect of the Senator's portfolio of work from speechwriting to press interviews. (Senator Mikulski is now an SNF Agora faculty affiliate.)
Flavahan also formerly directed the Forum on Global Violence Prevention at the National Academies of Sciences, Engineering, and Medicine in Washington, DC. She is recognized for her subject matter expertise in gender-based violence (GBV) and has served as an invited expert and speaker at conferences related to violent extremism, violence against children, and GBV. Her work has been published in academic journals and the Baltimore Sun. She holds a law degree and a master's in public health from Case Western​ ​Reserve​ ​University, and completed her undergraduate studies in English and political science from Ohio State University.
"We're thrilled to have Louise joining the team," said Hahrie Han, inaugural director of the SNF Agora Institute. "This new debate initiative is key to our mission of realizing the promise of the modern-day agora, particularly by modeling informed, inclusive dialogue across difference and creating spaces where students can be comfortable and confident participating in that kind of exchange.
"Louise's experience navigating the political world alongside Senator Mikulski, and her background as a convener of conversations around difficult issues like gender-based violence, have given her unique insight not just into how to participate in these kinds of debates, but also how to coach others to do so. She is especially enthusiastic about working with Johns Hopkins students. I think the students who engage with the debate program will find it to be a meaningful commitment, and they will truly enjoy working with and learning from Louise."