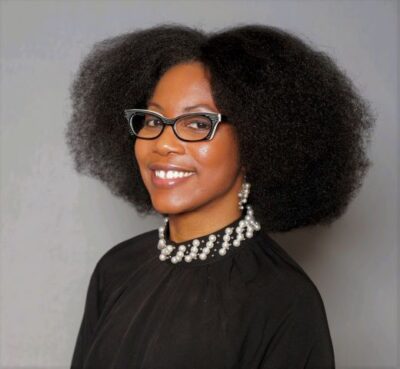 Ashley C.J. Daniels is a graduate of the Political Science Department at Howard University.  She conducts research in the areas of Black politics, Black feminist and womanist theory, public opinion, and popular culture. After completing her undergraduate studies at Bowie State University, where she received a bachelor of arts degree in English, she continued her education by earning master of arts degree in public administration. Her dissertation, "Unlocking the Power of the Sister(hood) Vote: Exploring the Opinions and Motivations of NPHC Sorority Black Women Supporting Black Women Candidates," examines how Black sorority women evaluate and connect with Black women candidates.   
Her writing has been featured in the Washington Post, the Washington and Baltimore Afro-American Newspaper, the blog ForHarriet, the PHILLIS Journal for Research on African American Women, and the National Review of Black Politics. She has also presented her research at several national and regional conferences, including the National Conference for Black Political Scientists, the Black Doctoral Network, the HBCU Conference on Retention, the American Political Science Association, and Delta Days in the Nation's Capital.  She is a recipient of several awards, including the Organization for Research on Women and Communication, the National Conference for Black Political Scientists, Howard University, and Delta Sigma Theta Sorority, Inc.   
Daniels served for nearly eight years as an administrator with the Delta Research and Educational Foundation.  She currently serves as the 2021–2022 Leading Edge Fellow for the National Conference on Citizenship with the Party at the Mailbox initiative through the Black Girls Vote.  She is a native of Baltimore, Maryland, and currently resides in Prince George's County, Maryland.