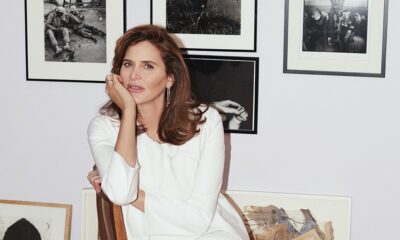 Janine di Giovanni is an award-winning writer, as well as a human-rights and war-crimes educator and adviser.  She is currently director of the Reckoning Project Ukraine, a USAID-sponsored transitional justice project she formerly ran in Iraq, Syria, and Yemen for the UN Democracy Fund.  
Prior to that, she was a senior fellow at Yale University's Jackson Institute for Global Affairs, teaching human rights.  She is also a columnist at Foreign Policy and The National in Dubai and an award- winning author, journalist and war reporter. 
In 2020, the American Academy of Arts and Letters awarded her their highest non-fiction prize, the Blake Dodd, for her lifetime body of work. In 2019, she received a Guggenheim Fellowship. A graduate of the Iowa Writer's Workshop, her current book, The Vanishing: Faith, Loss and the Twilight of Christianity in the Land of the Prophets, which chronicles the disappearance of Christian monitories, was released in October 2021. The writer Salman Rushdie described it as "a tragic portrait of a disappearing world, created with all of the great Janine di Giovanni's passion and literary grace."
She is the also author of the award-winning book, The Morning They Came For Us: Dispatches from Syria, which has been translated into 28 languages and was a finalist for the New York Public Library Helen Bernstein Prize. It was deemed "searing and necessary" by the New York Times, and shortlisted for the Helen Bernstein Prize at the NYPL.  She is also the author of eight other books on war and conflict.  
From 2017 to 2018, Di Giovanni was the Edward R. Murrow Press Fellow at the Council on Foreign Relations (CFR) and a professor of practice in human rights at Columbia University's School of International and Public Administration
During the Arab Spring and the Syrian war, Di Giovanni was the Middle East editor at Newsweek, reporting on international security, terrorism, human rights, and transitional justice. She was the senior foreign correspondent for the Times of London prior to that, reporting on more than a dozen armed conflicts on four continents. As a 2016 Pakis Scholar at Tufts University's Fletcher School of Law and Diplomacy, Di Giovanni focused on international law and international security. Prior to that, she was a contributing editor for two decades at VanityFair, where she won the National Magazine Award for Reporting, and many other awards.   
Di Giovanni has reported widely on war, conflict, and its aftermath for nearly 30 years in the Middle East, the Balkans, and Africa. She has investigated human rights abuses on four continents. She is the subject of two long-format documentaries, including the widely acclaimed 7 Days in Syria and Bearing Witness. Her TED talk, "What I Saw in the War," has received over 1 million views on YouTube. In 2016, she was awarded the International Women Media Foundation's prestigious COURAGE Award.  
Di Giovanni is also non-resident International Security Fellow at the New America Foundation and an associate fellow at the Geneva Centre for Security Policy. She is a former Ochberg Fellow at Columbia University's School of Journalism, given in recognition of her work with victims of war trauma. 
Di Giovanni has won more than fifteen major awards for her extensive work in conflict zones and during humanitarian crisis in Palestine/Israel, Bosnia, Serbia, Kosovo, Montenegro, Albania, East Timor, Zimbabwe, Somalia, Ivory Coast, Nigeria, Liberia, Sierra Leone, Burkina Faso, Burundi, Rwanda, South Africa, Egypt, Syria, Libya, Tunisia, Lebanon, Iraq, Iran, Afghanistan, Pakistan, India, Bahrain, UAE, Algeria, Turkey, Greece, Vietnam, and other countries. 
She is a life member of the Council on Foreign Relations.  She carries British, French, and American nationalities and lives with her son, Luca Costantino Girodon, in Manhattan. She is a board member of the Institute of War and Peace Reporting and Association of Foreign Press Correspondents in the United States.