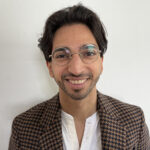 Sahil Handa is a writer, researcher, and technologist. Born in North London to Indian parents, he spent three years living in Bangalore before returning to England for high school. After taking a gap year, he began studying for his bachelor's degree at Harvard University in 2017, where he pursued a joint degree in social studies and philosophy, and a minor in English. He also studied at Jesus College, Cambridge.
Handa spent the summer of 2019 working at National Review, where he published 16 pieces, six of which became the most read article on the NRO website. He then went on to write regularly for a number of other publications, including the Wall Street Journal, City Journal, Business Insider, and Foreign Policy magazine. In 2020, while on leave from Harvard, he worked closely alongside the writer and academic Yascha Mounk to launch the political magazine Persuasion. He now acts as the publication's contributing editor and as a columnist at the Mercatus Center, writing regularly about politics, identity, technology, and generational divides. He has also spent a number of years working on a book about conformity on college campuses, and will be working on that project at SNF Agora.
Handa spends a lot of his time working on projects in the technology space. He is the founder and CEO of a web3.0 messaging startup, a contributor at Verses, and a fellow at Interact.