A new political organization's leaders must decide whether and how to share power with its grassroots activists. 
[Download Case Study Below]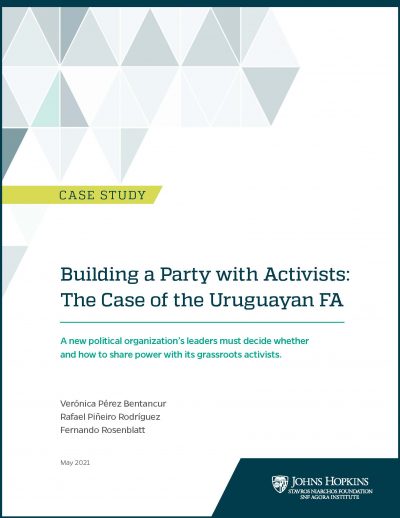 This case study is about  the Frente Amplio (Broad Front, FA) in Uruguay, which began in 1971 as a coalition of 12 political groups that aimed to unify the political left and channel the political and social discontent that pervaded Uruguayan society. Alongside this coalition of party organizations, a movement of FA grassroots activists emerged autonomously in an explosion of bottom-up enthusiasm for the potential for a unified political left.
This case study is appropriate for:
College students
Grassroots activists
Organizational leaders
By the end of this case study, you should be able to:
Learn about different modes of structuring national political organizations, and the benefits and drawbacks of each.
Understand the dilemmas faced by political leaders who must decide between two competing goals of organizational development in a political organization's early stages: the goal of giving grassroots activists sufficient influence in the organization's decision-making and the goal of achieving and maintaining organizational discipline.
Understand the crucial role that formal organizational rules play in the reproduction of activism.
Appreciate the importance of relational environments for collective action.
Download "Building a Party with Activists: The Case of the Uruguayan FA" Case Study
Please fill in the information below to download the requested case study. The SNF Agora Institute collects this information to better understand our audience so we can improve our case studies in the future. We do not sell, rent, share, or otherwise willfully disclose to any third party, email addresses or other personally identifiable information shared on this site, in accordance with the Johns Hopkins University & Medicine Privacy Statement for Websites and Mobile Applications. If you have feedback about this case study or suggestions for future cases, please email us at snfagora@jhu.edu.