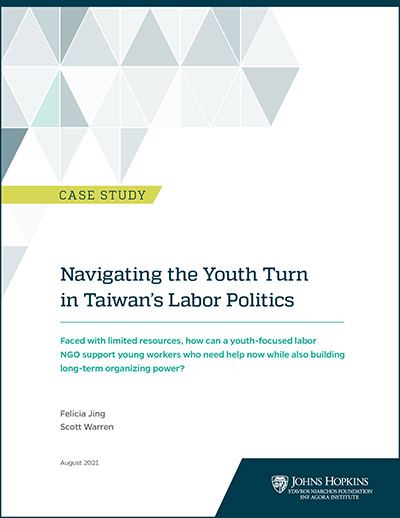 Faced with limited resources, how can a youth-focused labor NGO support young workers who need help now while also building long-term organizing power?      
[Download Case Study Below]
This case study focuses on the Youth Labor Union 95 (YLU95), a labor NGO based in Taipei, Taiwan. When it was founded in 2008, YLU95 initially offered legal support to youth who were struggling with work-related issues. But the group faced challenges to its larger strategic efforts to organize workers around issues particularly relevant to young people, including youth poverty, holiday work, minimum wage violations, and insurance evasion. Recognizing that their legal casework did not give young workers an opportunity to form broader connections and build a sense of camaraderie with the greater labor movement, the YLU95 faced a choice-point in determining a new strategy to address the general lack of collective identity among young workers in Taipei.
This case is appropriate for:
High school, college, and graduate students
Community and youth organizers
Labor organizers and union leaders
Civil society leaders
By the end of this case study, you should be able to:
Appreciate the importance and distinctiveness of youth issues in labor politics.
Understand the unique challenges of organizing young workers in particular.
Understand the function of identity construction in a sustainable, effective youth movement


   

generally.
Identify examples of effective organizing on university campuses.
Download "Navigating the Youth Turn in Taiwan's Labor Politics" Case Study
Please fill in the information below to download the requested case study. The SNF Agora Institute collects this information to better understand our audience so we can improve our case studies in the future. We do not sell, rent, share, or otherwise willfully disclose to any third party, email addresses or other personally identifiable information shared on this site, in accordance with the Johns Hopkins University & Medicine Privacy Statement for Websites and Mobile Applications. If you have feedback about this case study or suggestions for future cases, please email us at snfagora@jhu.edu.