In a bitterly polarized society, where citizens live in separate information realities and politicians manipulate the historical narrative for electoral advantage, can media create content that bridges divides and creates a common democratic discourse?
[Download Case Study Below]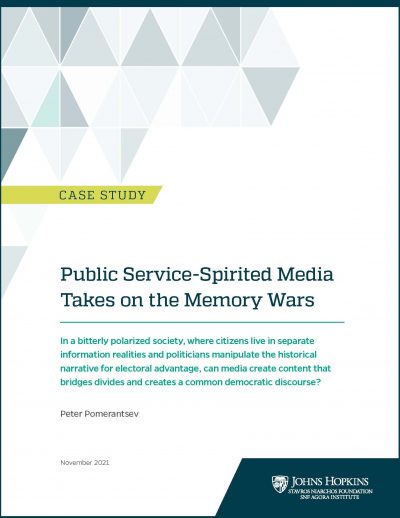 This is a case study about how you can challenge bitter, cross-partisan divides in a society where disputes over history are weaponized by political forces, and where opposing groups live in separate media realities. The study follows a group of journalists and scholars in Ukraine who pioneered a methodology and set of principles for creating media content that offers a way to move beyond these memory wars.
This case is appropriate for:
College and graduate students
Civic organizations
Journalists and other members of the media
By the end of this case study, you should be able to:
Understand how competing historical narratives and disinformation campaigns are used to sow societal division.
Understand how to identify meaningful commonalities among polarized groups.
Create public service–spirited media and other forms of mass communication that can overcome seemingly intractable divides.
Measure and scale impact of public service–spirited media interventions.
Download "Public Service–Spirited Media Takes on the Memory Wars" Case Study
Please fill in the information below to download the requested case study. The SNF Agora Institute collects this information to better understand our audience so we can improve our case studies in the future. We do not sell, rent, share, or otherwise willfully disclose to any third party, email addresses or other personally identifiable information shared on this site, in accordance with the Johns Hopkins University & Medicine Privacy Statement for Websites and Mobile Applications. If you have feedback about this case study or suggestions for future cases, please email us at snfagora@jhu.edu.