By almost any measure, public confidence in government has dropped. Across Western democracies, widespread demonstrations, whether on the streets or online, suggest growing citizen disillusionment. What should elected representatives consider when responding to protests and citizens' demands?
[Download Case Study Below]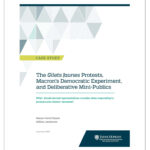 This case study examines five interventions by French President Emmanuel Macron between 2018 and 2021 in response to demands by gilet jaunes protesters, including the eventual introduction and implementation of deliberative mini-publics, government-initiated forums that allow citizens to access balanced information, deliberate, and make recommendations about social and political reforms. It then asks readers which intervention(s) they would pursue and why.
This case is appropriate for:
High school, college, and graduate students
Educators
Policymakers
Political reformers, practitioners, and community leaders
Government representatives and staff
By the end of this study, you should be able to:
Identify the complex nature of the demands citizens make of their government and the politicization of citizen grievances;
Articulate some of the responses available to political leaders in the face of protesters demanding greater voice in social and political reform and government decision-making;
Develop an understanding of nontraditional forms of political participation (versus more traditional forms such as voting, petitions, and townhalls) and the value of providing citizens with opportunities for greater consequential voice in between elections;
Describe democratic innovations, especially government-led DMPs; and
Think of creative ways to improve on the lessons learned from France within the American political context (how might we apply this case study to the US, at the local or national level?).
Download "Deliberative Mini-Publics" Case Study
Please fill in the information below to download the requested case study. The SNF Agora Institute collects this information to better understand our audience so we can improve our case studies in the future. We do not sell, rent, share, or otherwise willfully disclose to any third party, email addresses or other personally identifiable information shared on this site, in accordance with the Johns Hopkins University & Medicine Privacy Statement for Websites and Mobile Applications. If you have feedback about this case study or suggestions for future cases, please email us at snfagora@jhu.edu.