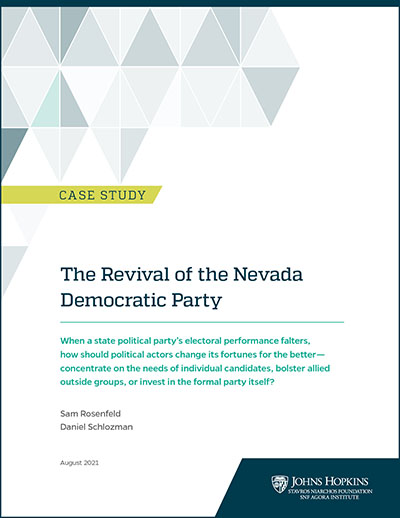 When a state political party's electoral performance falters, how should political actors change its fortunes for the better—concentrate on the needs of individual candidates, bolster allied outside groups, or invest in the formal party itself?
[Download Case Study Below]
What does it take to revive a political party? The question matters not only to politicians and party officials, but to activists, social movements, interest groups, and the millions of Americans who stand to lose or gain from the policies that follow electoral shifts in party power.
This case study looks at Nevada's state Democratic Party, which—in an era when many local and state party organizations have declined—has seen dramatic organizational revival and sustained electoral gains. How was this turnaround achieved? What lessons from the Silver State might be relevant to political actors elsewhere?
This case is appropriate for:
College and graduate students
Practitioners in electoral and party politics
Movement and issue activists
Political reformers
By the end of this case study, you should be able to:
Appreciate the strategic paths that political actors may take to bring about collective electoral gains for a party.

Understand the distinction between candidate-centered and collective electoral efforts, and
between formal and informal party organizations.

Delineate how law and party procedures shape the electoral strategies that actors pursue in
the name of party revival.
Download "The Revival of the Nevada Democratic Party" Case Study
Please fill in the information below to download the requested case study. The SNF Agora Institute collects this information to better understand our audience so we can improve our case studies in the future. We do not sell, rent, share, or otherwise willfully disclose to any third party, email addresses or other personally identifiable information shared on this site, in accordance with the Johns Hopkins University & Medicine Privacy Statement for Websites and Mobile Applications. If you have feedback about this case study or suggestions for future cases, please email us at snfagora@jhu.edu.