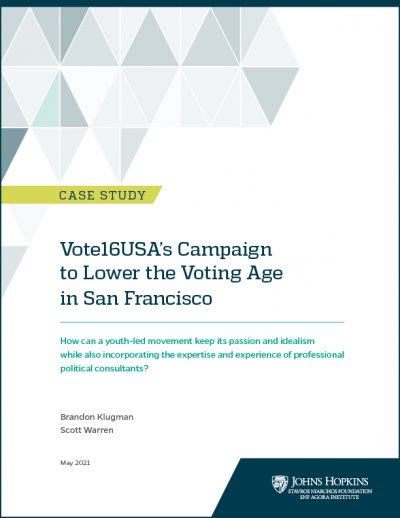 How can a youth-led movement keep its passion and idealism while also incorporating the expertise and experience of professional political consultants?
[Download Case Study Below]
This case study explores challenges that emerged for a coalition of high school–aged activists involved in the Vote16SF campaign, a movement to lower the voting age in San Francisco. This activist group, led by young people, sought to balance the passion and idealism of its convictions with the need to convince a plurality of (mostly older) voters to support an initiative that they initially viewed with skepticism. Striking that balance raises important questions about how to preserve and elevate the voice and authenticity of the people most affected by policy decisions while also taking advantage of the acquired political expertise and experience of professional political consultants.
This case is appropriate for:
High school, college, and graduate students
Youth organizers
Policymakers
By the end of this case study, you should be able to:
Gain an understanding of the tension in movements between the ideals of their leaders and the practical realities of political change.
Explore specifically the tension between the voices and techniques of grassroots campaigners
and those of experienced campaign professionals.
Analyze the tradeoffs that youth-led campaigns face between youth energy and voice and
professional campaign experience.

Learn what questions to explore, before accepting campaign funding from a particular source and on particular terms, about how that funding might impact the goals and structure of the campaign.
Download "Vote16USA's Campaign to Lower the Voting Age" Case Study
Please fill in the information below to download the requested case study. The SNF Agora Institute collects this information to better understand our audience so we can improve our case studies in the future. We do not sell, rent, share, or otherwise willfully disclose to any third party, email addresses or other personally identifiable information shared on this site, in accordance with the Johns Hopkins University & Medicine Privacy Statement for Websites and Mobile Applications. If you have feedback about this case study or suggestions for future cases, please email us at snfagora@jhu.edu.