Can faith-based organizers garner enough support to win universal preschool in a racially divided city? How should a grassroots group manage a disagreement with its own powerful coalition partners?
[Download Case Study Below]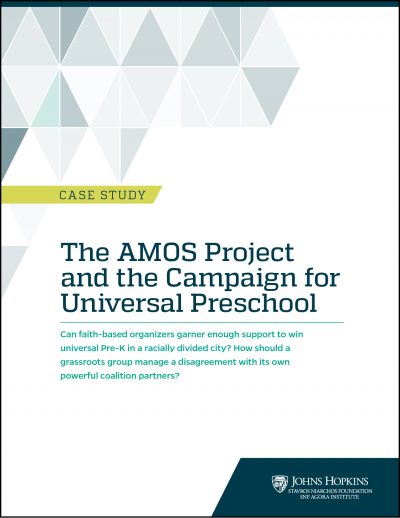 This case study is about the AMOS Project, an organization in Cincinnati, Ohio, and its grassroots efforts to pass legislation that would provide preschool education for most of the city's children. AMOS's grassroots efforts increased the political pressure to pay for the program, but at one point, the whole effort seemed likely to fall apart. How could a grassroots network of congregations manage a disagreement with allies in the business community and achieve its goals?
This case study is appropriate for:
College students
Activists
Civil society leaders
By the end of this case study, you should be able to:
Understand how a campaign organized by a grassroots network of religious congregations may differ from one led by businesses and well-resourced nonprofits.
Begin to think about how conflicts arise within coalitions and how to resolve them.
Download "AMOS Project and the Campaign for Universal Preschool" Case Study
Please fill in the information below to download the requested case study. The SNF Agora Institute collects this information to better understand our audience so we can improve our case studies in the future. We do not sell, rent, share, or otherwise willfully disclose to any third party, email addresses or other personally identifiable information shared on this site, in accordance with the Johns Hopkins University & Medicine Privacy Statement for Websites and Mobile Applications. If you have feedback about this case study or suggestions for future cases, please email us at snfagora@jhu.edu.