Should a faith-based organization take on an issue not of its choosing? Can relational organizing help its leadership support a new mayor while also engaging their base and holding their coalition together?
[Download Case Study Below]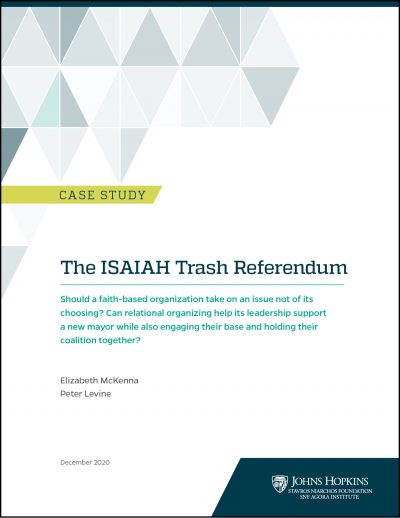 This is a case study about an organization in Minnesota called ISAIAH, a faith-based organization that works to expand the power and influence of people who have often been overlooked, especially poor people and people of color.
This case examines what happened when, to support a new mayor with whom the organization wanted to work,  ISAIAH became involved in a divisive issue—not of its own choosing—that revolved around garbage. ISAIAH faced at least three choices: 1) stay out of the fight over garbage; 2) use mobilizing techniques to help the mayor win the garbage issue; or 3) use relational organizing to enter into a power relationship with the mayor in the garbage fight—even though most of the people in ISAIAH's networks didn't care much about the issue.
This case is appropriate for:
College students
Activists
Civil society leaders
By the end of this case study, you should be able to:
Understand several approaches to organizing, including the relational and faith-based approach of ISAIAH.
Begin to learn about some of the practical tools of community organizers.
Analyze and discuss the strategic choices that confronted ISAIAH and apply your insights to other situations.
Download "ISAIAH Trash Referendum" Case Study
Please fill in the information below to download the requested case study. The SNF Agora Institute collects this information to better understand our audience so we can improve our case studies in the future. We do not sell, rent, share, or otherwise willfully disclose to any third party, email addresses or other personally identifiable information shared on this site, in accordance with the Johns Hopkins University & Medicine Privacy Statement for Websites and Mobile Applications. If you have feedback about this case study or suggestions for future cases, please email us at snfagora@jhu.edu.