Can a national network, with leaders and members based in low-income communities of color, build a coalition that bridges the interests of young people, parents, and teachers' unions? Can a coalition hold together when its goal becomes politically risky?
[Download Case Study Below]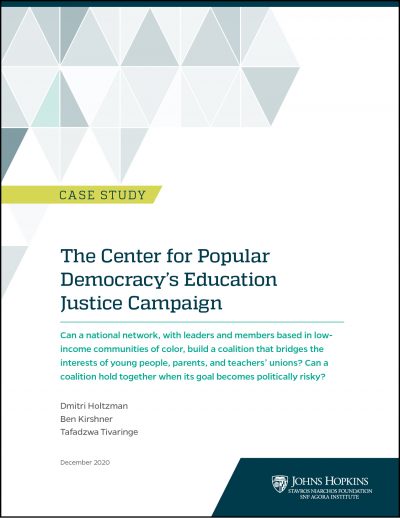 This case study explores dilemmas that arise for a network aiming to build a multigenerational movement for education justice, particularly through the story of the Center for Popular Democracy (CPD) and the evolution of its Education Justice Campaigns program.
This case study is appropriate for:
College students
Community and youth organizers
Civil society leaders
By the end of this case study, you should be able to:
Gain an understanding of the organizational dynamics that exist in broad-based, multigenerational advocacy campaigns.
See one way in which new goals are identified and elevated to leadership within social movements.
Gain an appreciation for the role of youth voices in shaping the direction of social movements.
Learn about the complex role of philanthropy in organizing campaigns.
Analyze and discuss the tradeoffs that confront many organizations and campaigns when they decide that a more radical goal is warranted but know they could lose some support if they adopt it.
Download "CPD's Education Justice Campaign" Case Study
Please fill in the information below to download the requested case study. The SNF Agora Institute collects this information to better understand our audience so we can improve our case studies in the future. We do not sell, rent, share, or otherwise willfully disclose to any third party, email addresses or other personally identifiable information shared on this site, in accordance with the Johns Hopkins University & Medicine Privacy Statement for Websites and Mobile Applications. If you have feedback about this case study or suggestions for future cases, please email us at snfagora@jhu.edu.