Wednesday, April 27, 11 a.m.–12 p.m. ET
Jan Eichhorn
Social Policy, University of Edinburgh
"Votes at 16 Across the Globe: Lessons on Youth Political Engagement from Lowering the Voting Age"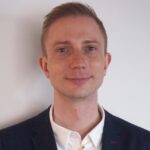 Dr. Jan Eichhorn is a senior lecturer (associate professor) in social policy at the University of Edinburgh. His research focuses on political attitudes and engagement, with a special interest in the political participation of young people.
Eichhorn has led the main study examining how newly enfranchised 16- and 17-year olds engaged with the Scottish independence referendum through representative data. Building on this work, he has collaborated with researchers in many countries to advance our understanding of how votes-at-16 can be developed successfully. The resulting book, Lowering the Voting Age to 16: Learning from Real Experiences Worldwide, co-edited with Johannes Bergh, brings together the collective expertise from countries that have seen an expansion of the franchise to younger voters.
Additionally, Eichhorn has co-founded a not-for-profit, independent, and non-partisan think tank, d|part, based in Berlin that aims to improve political participation in practice. His research has informed public debates extensively with Eichhorn contributing to many broadcasters in various countries (such as the BBC, CNN, or ZDF) as well as his work being featured in many news outlets (including The Guardian, Vice, Le Monde, El País, DER SPIEGEL, among many others). Using his research Eichhorn has also briefed various public institutions (including the UK government and Parliament, the Scottish government, the German government, and the European Commission) as well as a wide variety of civil society organizations and youth groups.