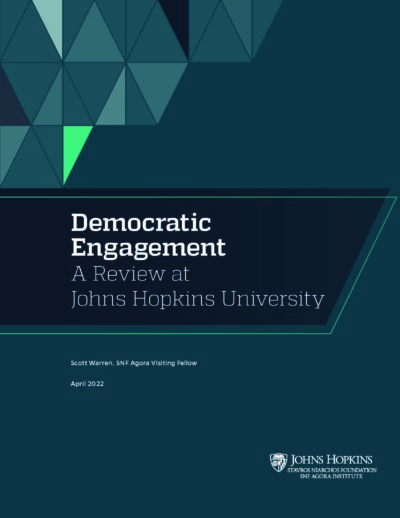 At a moment when democracy is under strain in the United States and abroad, and, relatedly, universities across the country are awakening to their role in cultivating democratic engagement, this report provides an inventory of democratic offerings at Johns Hopkins and identifies areas of potential focus and improvement looking forward in the years to come.
This report was written in 2021 by SNF Agora Visiting Fellow Scott Warren, with assistance from a number of students, and from staff in the offices of the Provost, Development and Alumni Relations, and the President. To complete the review, the team relied on registrar and orientation data, surveys, interviews, an audit of innovative peer practices, and publicly available information. The hope is that this report stimulates an ongoing conversation on how Johns Hopkins might consider strengthening its approach to democratic engagement.
Read the full report here, or download the PDF below.