Reginald F. Lewis Museum, Baltimore
Highlights from the Festival
Join the SNF Agora Institute for the third annual Elijah E. Cummings Democracy and Freedom Festival—a free event bringing together scholars and practitioners from across the country to join with the Johns Hopkins and Baltimore communities as we grapple with some of the most urgent challenges facing democracy, model civic engagement across divides, and celebrate democratic resilience and opportunity. 
Through this year's theme, "cities and citizenship," we will be exploring questions about the challenges cities face at the frontlines of democracy and the innovations they are making to strengthen local engagement. The festival also includes an art installation by Globe Collection and Press, music by DJ Mebaa, and a dinner hosted by The People's Supper.
All programming takes place at the Reginald F. Lewis Museum, 830 E. Pratt Street, Baltimore, MD 21202. Johns Hopkins students can take advantage of a free shuttle to and from the museum.
Festival Program 
1:30–2  pm: 
Welcome and Introductions 
2–3 pm:  Panel Discussion: Activating Local Democracy  
Decisions made at the local level often affect the daily lives of citizens far more than national policies and politics. However, in cities across the nation, civic engagement is woefully low, especially in local elections, where turnout hovers around 30 percent or lower. Laura Wood, who served as New York City's first chief democracy officer, leads this discussion about the innovative ways cities big and small are bringing more people into the democratic process, and ensuring that local elected leaders are responding to citizens' needs. Wood is joined by Danene Sorace, Mayor of Lancaster, Pennsylvania, and Terrance Smith, Public Innovation Fellow at the Bloomberg Center for Public Innovation, Johns Hopkins University. 
3–3:30 pm: 
Break
3:30–4:15 pm: 
Breakout Session #1 
GOTV: Creating a Culture of Voting 

–

Generation Citizen CEO

Elizabeth Clay Roy

and civic entrepreneur

Sam Novey

talk about how we can build momentum for increased voter turnout in 2024—and 2034. 

 

Measuring the Civic Effects of Higher Education

–

Sociologist

Andrew Perrin

and

Jennifer Larson

,

director of credit programs and

Summer School

at UNC Chapel Hill,

lead a data-driven discussion about how colleges and universities are—or aren't—having an impact on civic life.

 

Activists and Peacebuilders

–

Political scientist

Consuelo Amat

offers a hands-on training on using nonviolent action to mobilize your community, address power imbalances, and advance a just peace.

 
4:15–4:30 pm: 
Break 
4:30–5:15 pm: 
Breakout Session #2 
GOTV: Building a Movement

– 

Ashley Daniels

, project director of Black Girls Vote Research Network, and

Quill Robinson

, formerly

of the American Conservation Coalition, share strategies for creating targeted voting coalitions.

H

istorian

Leah Wright Rigueur

, an expert in 20

th

-century United States political and social history, moderates.

Hard Histories

–

Historian

Martha Jones

shares her research into the legacy of slavery and discrimination at Johns Hopkins and in Baltimore, and its relation to Baltimore's body politic.  

 

Questions to Open Up

– 

Thread

, a leading mentoring nonprofit that supports city teens in overcoming adversity, hosts a hands-on workshop about harnessing relationships and using conversation to make change.

 
5:15–5:30 pm: 
Break 
5:30–7 pm: 
People's Supper  
A shared meal with conversation, guided by The People's Supper, meant to build trust and connection among people of different identities and perspectives. (Paid ticket) 
Those who choose not to participate in the People's Supper can have dinner on their own nearby or enjoy music and art in the museum's lounge.  
7:30–8:45 pm: 
Debate (Doors open at 7 pm) 
Symone Sanders and Karl Rove debate whether or not Congress should act to secure voting rights in the face of increased state legislation around voting. Hallie Jackson of NBC News moderates.
Thank you to our promotional sponsors and content partners:
About the Elijah E. Cummings Democracy and Freedom Festival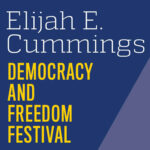 Dr. Maya Rockeymoore Cummings created the festival in 2021 in honor of her late husband. Congressman Cummings was a staunch defender of democracy, and used his voice to advocate tirelessly for the equal opportunity of under-represented and marginalized Americans, especially at the ballot box.