The SNF Agora Institute today announced that it is welcoming five new faculty to the institute. The institute will also welcome a new cohort of SNF Agora Visiting Fellows, who will be on the Homewood campus at various points throughout the upcoming academic year, depending on their projects.
"We're so excited by the growth of the institute over the past year," says SNF Agora Inaugural Director Hahrie Han. "We are more than doubling the size of our faculty, adding five new faculty members who will engage and interact with one another and with colleagues in their respective academic departments, with graduate and undergraduate students, and with the public. Our 11 new fellows—who work in education, advocacy, movement organizing, journalism, civic innovation, research, and ministry—will bring a critical mass of practitioners and scholars into community with our growing faculty."
New faculty members Consuelo Amat, Lilliana Mason, Andrew Perrin, Leah Wright Rigueur, and Dawn Teele are scholars of democracy from a range of academic disciplines, including sociology, history, and political science. In addition to being new to SNF Agora, they will also be new to Johns Hopkins University. Amat will join SNF Agora as an Assistant Professor, and Perrin will join as a Professor. Mason, Rigueur, and Teele will join the institute as Associate Research Professors. They will all begin on July 1.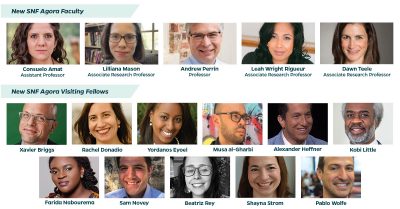 The new fellows—Xavier Briggs, Rachel Donadio, Yordanos Eyoel, Musa al-Gharbi, Alexander Heffner, Kobi Little, Farida Nabourema, Sam Novey, Beatriz Rey, Shayna Strom, and Pablo Wolfe—join the institute as the newest cohort of the SNF Agora Visiting Fellows Program. While the institute has welcomed individual Visiting Fellows before, it launched its first cohort-based program this spring. The Visiting Fellows program enables the institute to expand the reach of its research, teaching, and other activities. (Read more on the Hub.)
"The Visiting Fellows program allows us to bring a range of practitioners and thinkers into the campus conversation, so that not just our faculty but Johns Hopkins students and the broader public will have the opportunity to engage with experts from a wide variety of backgrounds, professions, and perspectives," says Han.
During their time at SNF Agora, they will take up important questions about social justice, voting patterns, secularism, civic engagement education, and more. A select number of fellows will teach undergraduate courses, while others focus their time on advancing their own scholarship and practices. The cohort will also participate in regular programming offered by the institute, while also convening their own symposia throughout the academic year.
"SNF Agora is thrilled to welcome our new faculty and our new cohort of visiting fellows. We look forward to the many ways in which they will expand the work of the institute and advance our mission through research, teaching, and dialogue," says Han.
New SNF Agora Institute Faculty:
2021–2022 SNF Agora Visiting Fellows: